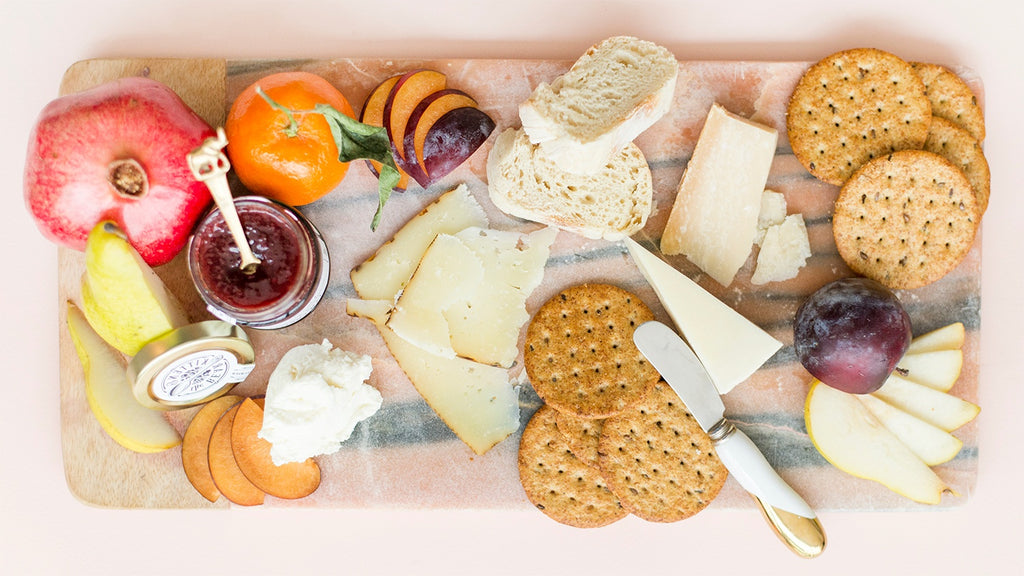 A Tea & Cheese Pairing With Sloane Tea
Much like fine wines, each tea has a unique set of tasting notes and can be paired with all different kinds of culinary delights. With holiday entertaining season well underway, we thought it was a perfect time to share some of our recommended tea and cheese pairings!
The complexities of cheese are seemingly endless with a range of different kinds of milk bases, aging processes, smoking techniques, presence of mold and more. Tea, similarly, is aged and fermented at different rates, and various manufacturing methods lead to a wealth of diverse flavours. With this in mind, one could likely make a tea and cheese pairing board that stretches an entire football field, but we're getting started here with the basics. 
The Pairings:  
1) Ricotta De Buffala and Grand Genmaicha
Notes //
An extremely soft cheese with a mousse-like texture, this Ricotta is creamy, yet not too heavy, with a sweetness that lingers. Though the flavour is gentle, it's also surprisingly distinct!
Our Tea Pairing //
Soft and mild cheeses partner well with a light green tea such as Grand Genmaicha. This is because the Ricotta is delicate but distinct in flavour and allows for subtle and nuanced notes of the green tea to complement rather than overpower. The "nutty notes" of the toasted brown rice in Grand Genmaicha add another balancing factor as it lightens the mouth-feel on the palate, making these two a match made in flavour heaven!
2) Don Pachego and Jasmine Jade Pearls
Notes //
A beautiful medium-hard cheese, Don Pachego is subtly full-flavoured and yet gentle on the lingering notes. Though it's not overly salty, this cheese causes for a dry sensation on the palate
Our Tea Pairing //
The sweetness of the Jasmine pairs well with the saltiness of the cheese, while allowing the natural notes of the tea to be at play (softening the mouth-feel on the palate).
3) Parmigano Reggiano and Oolong Creme
Notes //
Aged for 18 to 36 months, this isn't your average parmesan! A hard-cheese that bursts with flavour, it's brittle and crumbly with an extremely fresh, fruity (almost citrus-like) taste - think sweet like fresh pineapple! Though it is strong and rich it's also not overpoweringly salty To create Parmigano Reggiano the cow's are fed a diet of hay in winter (as opposed to the wildflowers on which the cows graze on during summer) which produces a paler cheese that's richer in taste. When it comes to cooking, this is one of the most versatile cheeses in the world and because it's made from skim milk it also has a reduced the fat content
Our Tea Pairing //
We paired this with Oolong Crème because the tea's sweet and silky notes allow for the texture of the Reggiano to play through, while the "crème" profile of the Oolong gently mutes the cheese's salty linger. Parmigano Reggiano also pairs exceptionally well with Earl Grey Classic as the bergamot note is complemented by the fresh and fruity "grapefruit-like" notes
4) Pecorina Romano Lupa and Perfectly Pear
Notes //
The most distinct and salty flavour profile amongst all of these four cheeses, Pecorina Romano is aged 4 to 12 months. After aging, its firm, compact paste is crumbly and crunchy, with the sweetness typical of ewe's milk, a salty tang and hints of lanolin.
Our Tea Pairing //
We paired this cheese with Perfectly Pear (a Bai Mu Dan white tea blended with Asian pear). The sweet succulence of the Asian pear profile in this white tea is an ideal pairing for a cheese with such salty profile, and as it is a delicate tea, it allows for the distinctness of the Pecorina to be maintained without interruption.
Of course the above four pairings aren't the be-all-end-all, but they're a great place to start your journey. We encourage you to go above and beyond, experimenting with your holiday cheese boards and creating new flavour combinations. Please share your findings on Instagram for the chance to have your pairing featured - the more the merrier!