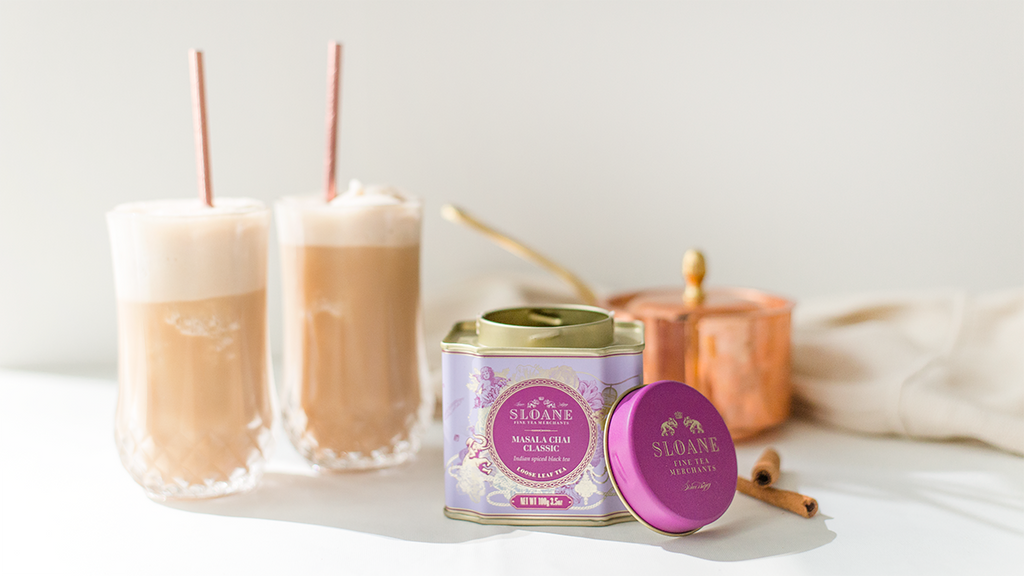 Blended Iced Masala Chai Classic
While travelling on a Sloane Tea sourcing trip in India, our founder Hoda was introduced to a delicious and refreshing recipe that we just had to share before summer is through!
Chai is an immensely popular tea all across India. It can be found everywhere along the bustling streets, sold by traditional Chai Wallahs, or brewing on the stovetops in almost every local's kitchen. Traditionally served hot, this recipe puts a refreshing twist on a spicy classic. As Hoda recalls, air conditioning was extremely rare in most of the homes she visited on her trip, so a refreshing drink was necessary to keep cool.
Hoda had the pleasure of being hosted by her "tea family" while in Calcutta and was treated with this blended iced chai each morning for breakfast and each afternoon as a refreshing break from the day's heat. This delicious creamy drink became a part of Hoda's daily routine during her time in India and she insisted on bringing the recipe home to combat the humid summers here in Toronto. With the final summer heatwave coming this weekend, our blended iced chai is the perfect recipe to bridge those hot summer days with the oncoming chilly fall nights.
Ingredients:
2 cups milk (2% or a milk alternative of your choice)
5 teaspoons darjeeling sugar*
4 teaspoons Sloane Masala Chai tea
2-3 cardamom pods (ground)
3-4 slices fresh ginger
1 teaspoon clove
1 cinnamon stick
Heat 2 cups milk on medium-high heat until it reaches almost a boil, add 2 teaspoons of the sugar and stir. Allow all other ingredients to simmer with the milk for 15-20 minutes, stirring occasionally to ensure the milk doesn't scald. Remove from heat and strain while pressing all the liquid out from the spices. Allow this chai-infused milk to cool completely in the fridge.

Once cooled, add to a high powder blender with one whole tray of ice cubes and the remaining sugar. Blend until you've achieved a smooth consistency. Serve in a tall glass on a warm day surrounded by those you love!