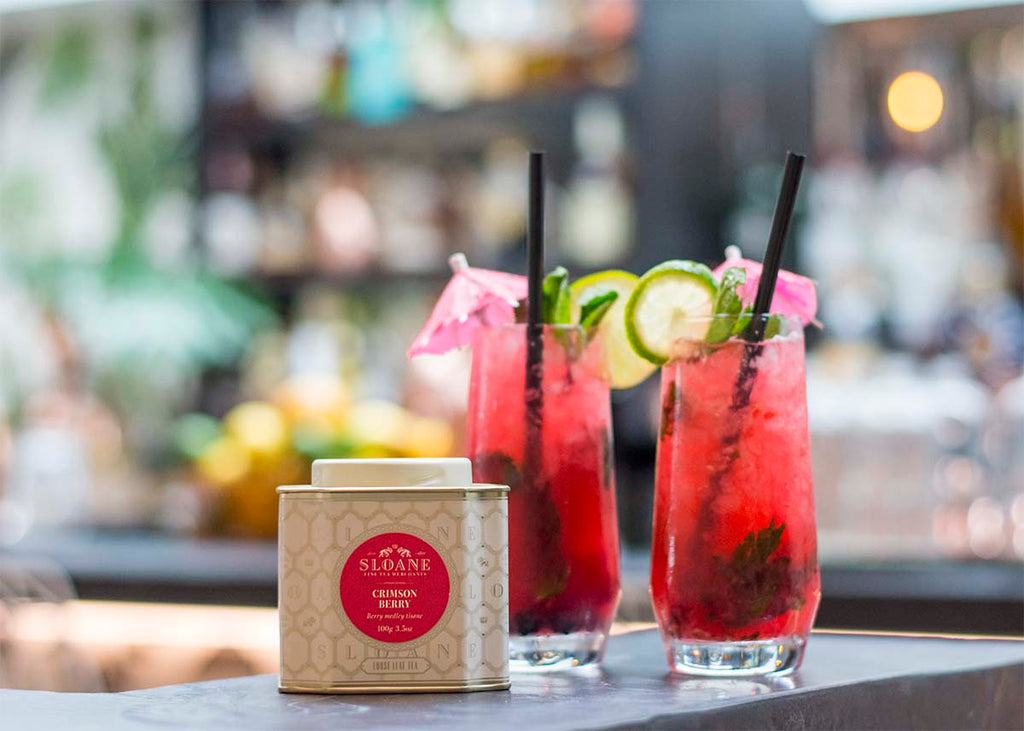 Crimson Berry Mojitos
A very special weekend is upon us! Not only is it the first long weekend of the Summer, but Canada's birthday too. We couldn't be more proud to be a Canadian company, with production in Vancouver, our head office in Toronto and retailers coast to coast. You can even find Sloane Tea at some of Canada's most beloved historical landmarks like The Prince of Wales Hotel, and served aboard VIA Rail trains nationwide.
A birthday warrants a celebration, especially a birthday this big, so we teamed up with Planta, the newest restaurant venture by fellow Canadian brand, Chase Hospitality Group. With an entirely plant-based menu, Planta has stolen the hearts of Torontonians with menu items like Coconut Ceviche and cocktails featuring cold-pressed juices. We're very proud to stock our tea at every Chase Group restaurant around the city, and since Planta just launched their Summer iced tea menu, we were thrilled at the chance to get adventurous with them behind the bar.
Summer is synonymous with refreshing, minty mojitos and since we're so inspired by the beginning of Ontario berry season right now, we decided to marry the two flavours. Muddled fresh local berries, mint, simple syrup, soda water and rum (optional) meet Crimson Berry, a lush berry herbal tea featuring cranberries, blueberries, and elderberries combined with hibiscus, lemongrass and a touch of rooibos. The best part? It steeps a deep, rich red, turning this cocktail into the perfect Canadian colour!
Cheers to local flavours, local businesses and this amazing country we call home!  
Ingredients:
8 teaspoons Crimson Berry tea
2 cups boiling water
1.5 oz white rum (optional)
1 oz  lime juice (or one whole lime)
8 fresh mint leaves
3-4 fresh raspberries
3-4 fresh blueberries
1 oz simple syrup
Soda water
Crushed ice
Before you start, steep 8 teaspoons of Crimson Berry in 2 cups boiling water in a small pitcher, steep for 10-15 minutes, remove tea and allow to cool to room temperature.
In a cocktail shaker, combine white rum, lime juice, fresh mint and berries and muddle. Add simple syrup and 3 oz of cooled tea. Fill the cocktail shaker with about ½ cup of crushed ice and shake for 1-2 mins. Pour contents of the shaker into a glass, add additional mint leaves or berries if you'd like and top off with soda water. Garnish with a sprig of mint and fresh raspberry!