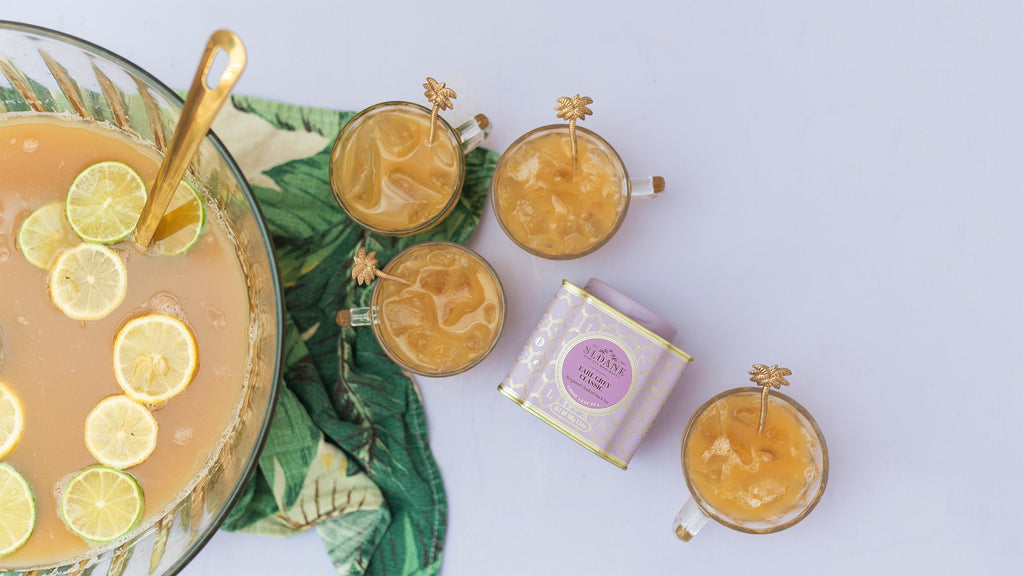 Earl Grey Classic Pineapple Rum Punch
We believe strongly in the lost art of serving punch at parties, especially during the hot summer months! There's nothing simpler than mixing some amazing ingredients in a punchbowl or a pitcher to share with guests - plus, it gives you more time to actually socialize instead of mixing cocktails all evening!
A signature drink of the Caribbean, Rum Punch simply means a base of fruit juice and rum mixed together, often topped with spices, citrus slices, grenadine, or bitters. We love the way the bergamot oil in Earl Grey tea compliments citrus fruits like lemon and pineapple, so we thought it might just be the missing ingredient when it comes to a truly decadent tea-infused punch!

This one-bowl-serves-all summer beverage is a dreamy combination of citrus, tropical, and floral flavours with a hint of black tea and we seriously can't get enough! Serve it at your next cocktail party, BBQ, picnic… the sky's the limit! We're already thinking up ways to switch out the juice and tea choices to make a spiced version for autumn!
Ingredients //

13 oz white rum
6 teaspoons Earl Grey Classic loose leaf tea
1 can (48 oz) pineapple juice
1 lemon, sliced
1 lime, sliced
1/3 cup simple syrup
6-8 drops lavender lemon bitters
24 oz sparkling water
Ice
Recipe //
The night before serving your punch, spoon 6 teaspoons of Earl Grey Classic tea into a glass bottle or jar with a secure lid. Cover with 13 oz of white rum, place in a cool, dark cupboard overnight to infuse.

When you're ready to serve, pour the tea-infused rum through a strainer into the serving bowl or pitcher to remove the leaves.

Add 1/3 cup simple syrup and 1 can of pineapple juice, stir well. Drop in bitters and top off with sparkling water.

Garnish with thinly sliced lemons and limes, pour into glasses filled with ice and enjoy!