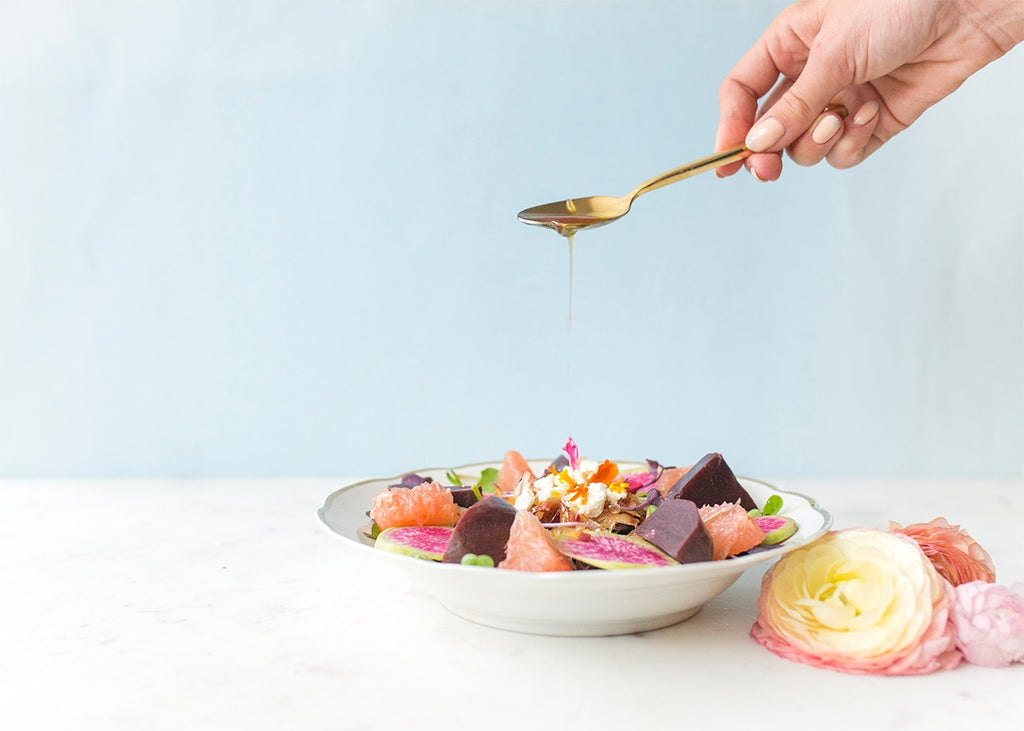 Jasmine Mist Spring Salad
With the first day of spring right around the corner it's the perfect time to start experimenting with fresh new seasonal flavours. As local produce becomes more readily available, unexpected flavour combinations come alive much like the tulips peeking out from under the soil this time of year.
Springtime and florals have a synonymous connection, and longer days have inspired us to come up with a flavourful salad creation to serve up for yourself, your family, or at outdoor soirées to come. We used our Jasmine Mist green tea as the main ingredient, carefully paired with citrus, olive oil and honey.

You can use this dressing on any salad you like, but we've created a new favourite right here that you can add to your tablescape. Beets and grapefruit usher out winter while fresh watermelon radish and edible flowers provide a welcome taste of spring. 

Ingredients:
Spring greens mix
Purple carrots
Watermelon radish
Grapefruit
Beets (pickled or pre-roasted)
Goat cheese (optional)
Edible flowers and / or micro greens for garnish
For the Dressing:
2 Sloane Tea Jasmine Mist sachets steeped in 4oz of water just below boiling for 1-2 mins. 

2 tablespoons honey
¼ cup extra virgin olive oil 
3 tablespoons lemon juice
*Tip - add a hint of beet juice to tint the dressing a beautiful rosy hue
To make the dressing:

Steep 2 bags of Jasmine Mist in water just below boiling for 2-3 mins, stir in honey while the infusion is hot enough to dissolve. Set aside to cool. Combine tea and honey mixture with olive oil and lemon juice and whisk well until frothy. Store in the refrigerator for up to a week.
To make the salad:
Slice the radish very thin and carefully arrange on a bed of spring greens. Supreme the grapefruit and add 4-5 sections to the outside of each plate in an alternating pattern with the beet slices. Grate the carrots into the middle of the salad and top it off with crumbled goat cheese. Garnish with micro greens and/or edible flowers and drizzle the finished plate with the jasmine tea infused vinaigrette when you're ready to serve! Now sit back and enjoy the sweet taste of spring flowers!
How do you enjoy Sloane Tea in the springtime? We'd love to hear your ideas!