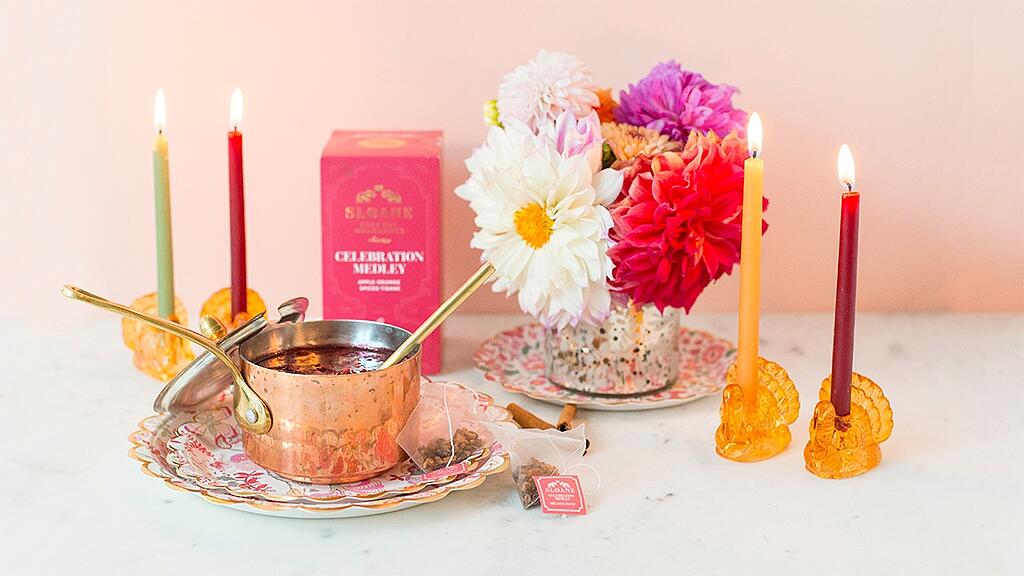 Celebration Medley Cranberry Sauce
Tea's the season for warm family moments by the fireside, long walks with the cool crunch of red and orange leaves underfoot, and hot cups of tea of course! We can't help but love all of the traditions that come with autumn, and there's one in particular we can't wait to celebrate this weekend: Thanksgiving!
Thanksgiving is a holiday filled with unique scents, sights and flavours that only come around once a year. The salty gravy, the candlelit table, a pie baking in the oven - all of these signal this special night where family and friends get together to be thankful for everything they have.

Everyone has something that they can't live without when it comes to their Thanksgiving spread and for us, it all comes down to the cranberry sauce.
Ingredients:
2 cups water
2 cups cane or brown sugar
20 oz bag of frozen cranberries (approx 5 cups)
2 Celebration Medley tea sachets or 3 teaspoons loose tea in a tea filter or cheesecloth 
3 pieces of orange peel
Spices of your choosing, we used:

Nutmeg
Clove
Cinnamon
Star anise
Red peppercorns
Directions:
Bring 2 cups of water to a boil with equal parts sugar and 2 Celebration Medley tea sachets (allow tags to hang over the side of the pot), boil for 2-3 minutes stirring occasionally until sugar is dissolved.

Add the frozen cranberries and reduce the heat to a simmer, stirring occasionally. Allow to simmer for 10-15 minutes until you notice the cranberries start to 'pop'. If you're using ground spices, add a teaspoon of each directly into the pot and stir or use cheesecloth if you're using whole spices. Add 3 pieces of orange peel and continue simmering for another 10-15 minutes.
Remove from heat, spoon out the orange peel and transfer to a heat safe jar. Keeps in the fridge for up to two weeks.